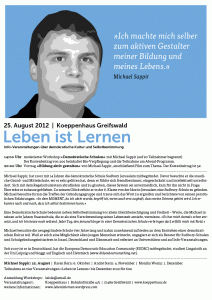 What are the main ingredients of a democratic culture?
On August 25th, I'll be giving a workshop and lecture in Greifswald. At the EUDEC conference in Freiburg, my host and I grabbed two plastic chairs and sat down in a sunny spot for a short interview, some of which is now on the fine poster ad you see here; at one point he asked me a question I haven't heard too often: what are the main characteristics of individuals who are part of a "democratic culture"?
A democratic culture, as I understand it, is a kind of culture that develops within a group that makes decisions democratically; democratic culture makes democracy more than just a decision-making process – instead it becomes a way of life, something you notice in all kinds of interactions between people.
I came up with four main points:
Communication at eye level (as opposed to talking up or down to someone) – regardless of age
Respect  for all other individuals
Willingness to listen, even when confronted with a view you disagree with
Willingness to reflect  on one's actions, recognize mistakes, and learn from them
To me, these are the things that people have to have in order to keep a truly democratic culture alive.
Without equal communication, respect, and willingness to listen, the discussions that are the bread and butter of democracy are impossible. Without a willingness to reflect, they're pointless.
What do you think are the most important ingredients of democratic culture? Leave a short comment below!