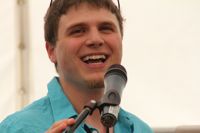 This is not a post about the IDEC@EUDEC conference, nor about my likely-dead iPhone.
Yesterday, after about 23 hours in a bus, we arrived in Leipzig, back from the terrific IDEC@EUDEC conference in England. We both still had (and have) a bit of a head cold or flu, which was going around at the conference and hit me a few days before the end, so we were altogether extremely exhausted upon arrival. We decided to spend the day in bed, watching movies and shows and napping occasionally, holding out until nightfall for the real sleep.
When we finally did go to sleep, Sabine was feeling nauseous, and so she put a bucket with a little water next to the bed in case it was needed. We slept like two large stones.
When we woke up some time before noon today, I noticed a tall lamp was lying horizontally on the floor. Soon after, however, Sabine held up my iPhone by its charging cable, dripping with water from the bucket. It had just spent some unknown number of hours in the water.
The iPhone is now drying (in a box of rice), now and for another day and a half, before I risk trying to turn it on. But it's not likely to recover. I'm relieved the combination of power cable and water bucket didn't do any further damage, really.
I'm sad that my dear iPhone is (probably) dead. I use it a lot, I haven't had it for all that long (just over a year), and most of all, I can't really afford to replace it right now. I recently bought a very good new laptop, one I expect to use for a few years, but which depleted my bank account and then some.
I'm living beyond my means, on bank credit, and that's what this post is really about.
Don't get me wrong. My debt is tiny, so small it should be insignificant. But it's not, because I live on a very low income, and small sums seem pretty big when you live on a low income. And the reason I live on such a low income is that, due to my studies and activism, I haven't found time to make money. My main source of income is the federal German student support program – which is a pretty good deal, considering it's only around a dozen hours of painful bureaucracy a year, for which I receive just enough money to live at a reasonable standard of living.
For the past few months, I've been thinking quite a lot about the big role money plays in, basically, everything that goes on in the world. I don't have any big conclusion to share on the global issues, but on the personal level, it has already become clear to me that I will have to find a way to seriously increase my income if I want to live a fulfilling and active life. That's not to say that I like or favor the monetary systems of the world as they are today. I rather don't. But as long as the world is organized the way it is organized, and as long as I insist on living in a city, using the latest technology, and trying to change things in the world of people, money is going to be vital.
This isn't all that bad, because there are always things I enjoy doing (even if I only enjoy them a little) which I can get money for. I just stepped down from EUDEC Council to focus on my studies and finish my degree, and that's what I'm going to do from now until the end of February, but after that, I see a whole world of possibilities spread out in front of me.
The most obvious option is to work for EUDEC. As I've mentioned, EUDEC is working on hiring a paid coordinator, to make sure things work smoothly without relying too heavily on volunteers. I'm probably going to apply for that position, and if it works out, it would be a real dream job (and a good deal for EUDEC, I think).
Another obvious option is translation. I've done translations occasionally, I know several translators, and I know that if ever I need to just find any work I can find, translation will always be possible. The downside, as all translators know, is that the stream of work can be less than steady, leaving you without an income for months at a time, sometimes.
One other thing I've already done occasionally and would enjoy doing more of is public speaking. I was thinking of doing a speaking tour in March or April 2012, just after I finish my studies, trying to cram in as many talks as I can in three to five weeks. It would give me a financial boost, a chance to work intensively on my speaking skills, and an opportunity to get to know new people and new places.
What do you think? Is a speaking tour a good idea? Any reason it might be more trouble than it's worth? Do you know of someone who might want to invite me to speak around that time?
Any input appreciated.
Photo by Monika Wernz.