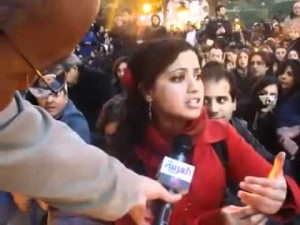 Listen to this song. Kelmti Horra, 'my word is free', sung by Emel Mathlouthi at a mass sit-in.
What you hear is the sound of hope.
"I am those who are free and never fear,"1 she sang, as the Tunisian people rose up to topple the dictator. Yes, that revolution may have been followed by an electoral victory for Islamists, but few revolutions ever attain total liberation. No, make that none.
That is the way of the world. Some regime grows abusive; eventually the people rise up and topple it; a new regime comes instead, and before long it abuses the very people who put it in power. Perhaps it is not as cruel as that which it replaced; all the better for the new rulers, as they know the people will consider them better than their predecessors, and be hesitant to rise up again.
But the way of human freedom – of free thought – is the way of the constant revolution. The old king is dead, long live the new king – for a while, until he grows cruel and we again grow weary and it is, again, time to replace him.
No regime that is abusive towards its people can last forever. Eventually, someone will stand up and say, "I am the free people of the world. I am like a bullet."
And then, the cycle begins again.
Know hope.
Footnotes