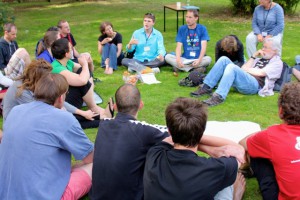 Democracy can be excruciating. It takes a lot of time, and it takes a lot of discussion. A lot of repetitive discussion, as you have to convince a majority of your point of view. But democracy can deliver.
A strong reminder came at EUDEC's Assembly meetings, three weeks ago, right before and during the IDEC@EUDEC conference. The difficult, divisive issue was, as always, membership: who's in, and who's out. This particular story starts a year earlier, at the previous meeting of Assembly, in Roskilde, Denmark.
In Roskilde, Assembly decided, based on my proposal, that in order for a school to become a full member of EUDEC, it would have to declare that it is a democratic school (under EUDEC's definition) and intends to stay one. This decision was made at the very end of the very last plenary, when everyone was exhausted and very few people were really paying attention. Many people were confused and angry about the decision afterwards. But the decision also established a committee to discuss membership issues and work towards a comprehensive solution.
The committee was less active than I had hoped, but eventually the discussions started there brought me to make a new proposal. For this year, I proposed to get rid of the Roskilde restriction, and even open up school membership more, while adding tools for (self-)evaluation and transparency regarding how each member school works.
I thought the proposal would be an easy sell – boy, was I wrong! Membership discussions bring out a lot of emotions, and they very quickly come down to discussions about the core vision of the organization; as a democratic organization, EUDEC's nature and course of action depend quite directly on the makeup of its membership.
By the second day of discussions, there appeared to be two separate camps, for and against our proposal. Each side talked amongst itself more than with the other side. When the sides met, the debate was heated and people came away feeling sick. At some point there was an (Extended) Council meeting in which we talked about it, and some of us were in tears, others close to it. A few of us who had been involved since founding EUDEC – myself included – had a sense of doom; it seemed our organization was about to splinter, sputter and die. The difficulties seemed truly insurmountable.
But then, maybe an hour or two after that meeting, everything changed. Some of us had talked with "the other side" in the café and came out feeling our differences were minor, both in principal and in practice. It was as if we were standing on a cliff, about to fall, only to be suddenly yanked back onto solid ground. That feeling opened us up – all of us, on both sides, I think – to what other people were saying. And then my friend Or Levi came by and took advantage of my openness to tell me that we're all being idiots (loudly, but in Hebrew). As has become typical in our friendship, he came at me with criticism that at first seemed ignorant, insensitive, and arrogant, but quickly turned out to be useful in that it questioned things I took for granted.
New ideas came up that evening, ideas that it was too late at that point to introduce into the debate. But that evening calmed everyone down and left us with the knowledge that we're in this together and everyone is determined to resolve the differences and find the right way to go. It also taught us (or me, at least) that given enough time, new solutions may come up that weren't even on anybody's mind. Many were now content with finding a compromise we can live with for a while and continuing to look for the best solution.
The truly amazing thing happened during the next session of Assembly. By the time we got to finally voting on the membership proposals, there were some six or seven different proposals on the table, some divided into 3, 4, 5 sub-proposals. We voted, and voted, and voted, and voted, well into lunch-time. Due to the system we use, members of the Assembly were instructed to vote on each sub-proposal independently of all others; that is, the question was only if that part is something you're in favor of, regardless of whether or not other parts you want together with it should pass.
As the voting went on, an odd pattern emerged – Assembly passed no more than one sub-proposal of any proposal. We ended up with six different bits and pieces, not all of which were intended to work together, few of which were intended to work alone. Council took the day to check if there was any contradiction between them, but when we left the meeting, everyone – both sides – seemed okay. Nobody left in anger or tears. Nobody said they'd leave the organization (as some had threatened to do). And when Council went over the decisions, it found no contradiction whatsoever. The full package of decisions had to be ratified in the next plenary, and it was carried unanimously.
Give democracy time and attention, and it will deliver.
Photo by Monika Wernz.
One more thing: Or is working on spiffing up EUDEC's semi-official YouTube channel, EUDECmovies. Subscribe now, there's going to be a lot of material from the conference over there pretty soon!