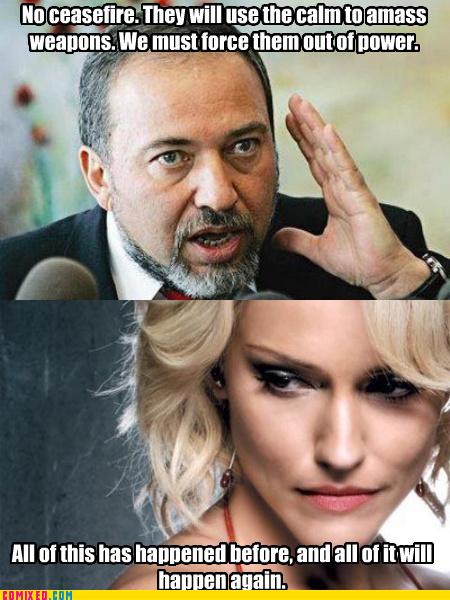 This blog started with a post about Gaza. In recent days, Israel has been escalating the conflict on the Southern front while Hamas pursue aggressive diplomacy, i.e. firing rockets while asking for a ceasefire. I feel like I have to do something. Yet all I can really do is write.
The enigmatic Six in Battlestar Galactica incessantly reminds us: "all of this has happened before, and all of it will happen again".
Remember, in late 2008 we embarked upon the very same path, unleashing massive amounts of firepower on Gaza, killing at least 700 civilians and launching us into Israel's most isolated couple of years in its history. Back then the idea was the same: hit them so hard that they can't hit us back.
The problem is that this logic never, ever works. We've been trying it for decades. We kill them, even demolish their infrastructure, but in the process we give so many people cause to hate us that within a few years their ranks are replenished and out to get us again.
Chatting with a right-wing friend the other day, I said something about the families of the victims and how they'll feel about us after we take their siblings/children/parents away. He said the mistake is to leave any family. (I'm not sure whether he was serious or not — this was a textual conversation and I didn't feel like pursuing the topic.)
Yet even if we follow this sick logic to its conclusion — total annihilation of the rival tribe — we will gain no peace. We will only push the frontier a little further, gaining enemies in places where nobody used to give a damn about us. We will only gain international isolation and brain drain, as people leave what has become of our country, a country created by and for the victims of genocide.
Observation: there are some 11 million Palestinians in the world (according to Wikipedia). Total genocide of the Palestinians will give Israel the dubious honor of having surpassed the Nazis' genocide of Jews. (I suppress nausea, breathe deep, continue.)
Incidentally, it will not end all of our haters.
So long as we use violence, we invite violence. The more we kill, the more people will want to kill us. So long as we continue acting as we've acted, we will not break the cycle. Hamas could try to break the cycle as well. But bombing Gaza is not the way to convince them to do so. Israel's citizens and few remaining allies must demand and enforce a ceasefire.
We now have Iron Dome, a system that can destroy rockets fired out of Gaza in mid-air. Instead of financing another war, build more Iron Dome units. Fund peace proposals. Pay Arabic-speaking copywriters, pay printers, and bomb Gaza with flyers. Stop wasting money and lives on a cycle of violence in which Israelis and Palestinians – especially the poorer of both groups – have their everyday lives disrupted or destroyed, every day.
All I can do is write, but for days I have not been able to. Every time violence flares up against Israel, I am reminded of how urgent it is to strive towards peace. There is always a sense of the inevitable to it; knowing that my country continues to use violence, I know we will be faced with violence.
It's painful, and all I can do is write. It seems like so little. I don't know if I'll write about this again any time soon.
For now I'll just continue to try not to think about it, while thinking about it all of the time. I'm an Israeli; denial's my life.
UPDATE (two hours later):
I've just read that there's some kind of tacit cease-fire, apparently as of last night. I hope this lasts and the rhetoric of "final escalation" loses out to some common sense. A strategy that has failed us dozens of times will continue to fail us no matter how many times we try.