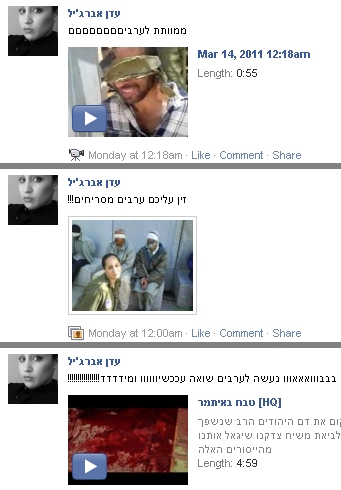 Remember Eden Abergil, the young Israeli woman who became an instant Internet meme after posting photos from her army days in which she poses with bound and blindfolded Palestinian detainees? (If not, Google her.)
Ido Kenan over at Room 404 brings us some news from the famous Facebook profile. The Itamar massacre has prompted her to re-post one of the most memorable photos from, as the album was called, "the most beautiful time in her life" and spew some fresh unreflected racist hatred into the net.
Seen on the right, we have, from top to bottom, a video of (reportedly) soldiers abusing bound detainees, with the charming caption "death to the Arabssssssss"; then the picture that made Abergil famous with the caption of, roughly, "fuck you, stinking Arabs!!!"; and finally a video of images from the murder of the Fogel family in Itamar with the caption "let'ssssss do a Holocaust for the Arabs nowwww and immediatelyyyy!!!!!!!!!!!".
Kenan reports that when a friend half-jokingly warned Abergil this all might wind up on TV, she replied "Death to the Arabsssss!!!! Let it show up!!!"
It's worth noting that back after her "beautiful" pictures originally surfaced, she apologized.
H/t to Itamar Sha'altiel. This post is not a direct translation of Ido Kenan's post, but still  mainly reproduces the information he posted, in English. Credit is due to him, I just thought this worth sharing in a way accessible to non Hebrew-speakers.